Tariff at Bunroy Caravan & Camping Site…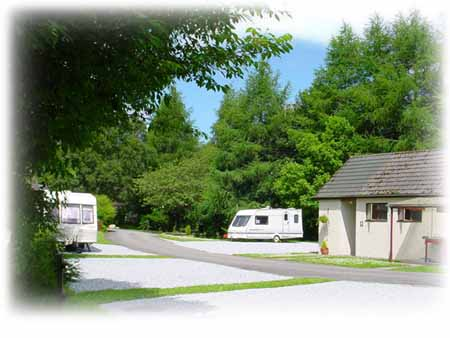 2006 Price List
All prices are £ per person per night – there is no pitch fee 
March
April
May
June
Jul
Aug
Sept
Oct
Caravan or Motorhome
(includes pitch, up to 2 people and use of electrical hook up)
10.00
12.00
13.00
13.00
13.00
13.00
12.00
11.00
Tent Campers – each for the first 2 adults.
(Note maximum tent size is 6 berth.)
4.00
4.50
5.00
5.00
5.00
5.00
4.50
4.00
Additional Adults – each per night.
2.50
2.50
2.50
2.50
2.50
2.50
2.50
2.50
Children (4 to 14) – each per night.
2.00
2.00
2.00
2.00
2.00
2.00
2.00
2.00
Electrical Hook-ups : All of our pitches with electricity are hard standings.
Tent pitches ; Up to 6 person tents only are accepted and no dimension of the tent should exceed 5.5 metres. Car parking is on the grass next to your tent (subject to ground conditions). We regret that we don't have any grass pitches with electric hook-ups.
Bookings : We accept advance bookings should you want to make a reservation – a 20% deposit (£10 min) will reserve a pitch for you and your balance will be due on arrival. To make a booking just phone us with your debit or credit card details handy or post us a cheque (pay Bunroy Park) not forgetting to include all your details with it !
A confirmation will be sent for all reservations accepted. Please note that we reserve the right to refuse any booking which we consider may be inappropriate for our peaceful site.
We ask that visitors note our simple site rules :-
Noise : Should be kept to a reasonable level at all times and to an absolute minimum between 23:00 & 08:00. Also to minimise noise please note that new arrivals should be after 09:00 and before 22:00.
Dogs : Must be kept on a lead at all times. They should not be exercised on the site and owners should clean up after them if they foul anywhere on the park.
Barbeques : All barbeques and unshielded gas burners must be raised at least 6″ above the grass to avoid burning it.
Fires : There is nowhere on the camping site or on the river bank where open fires are permitted.
Parents : The safety, supervision and conduct of your children is your responsibility at all times. Bunroy is a rural site and can not be adapted to remove all the potential hazards of nature.
Ball games etc. : Football should not be played on the site. We have an amenity field adjoining the camping area which can be used for the quiet enjoyment of our visitors who wish to play quiet ball games (eg tennis etc.) or fly kites etc.